Note: Penny is currently taking a break from her scheduled classes conducted at local culinary venues to work on her cookbook.
Penny is still available for private individual or group classes in your home by appointment. Please contact us with your inquiries on available dates and costs by calling (818) 209-2191 or by filling in the form below.




Penny's Pie Classes on Video:
Available on DVD. Penny has put her award-winning pie dough and pie baking techniques on a video, "Simple, Fun & Foolproof Pie-Making for Everyone". Filmed in part at Penny's Pie Classes conducted at a local cooking school, this video shows in detail how to create several of Penny's delicious and flaky "signature" pies.

As pie crusts are the most difficult and troublesome part of the pie baking endeavor, Penny ensures that the video viewer can duplicate her simple and quick oil-based pie dough by showing it in detail, step by step. She then shows how to make her blue ribbon-winning apple and pumpkin pies, and details how to create a woven lattice top, on her third place cherry pie. Included with the video is a resource and utensil guide, and 12

recipes—all of her 2003 Los Angeles County Fair ribbon winning entries (seven of them including, 3 first place blue ribbons.)
Video Pricing: You can purchase Penny's amazing pie-making secrets for $19.95 in DVD format. You can pay with Mastercard, Visa and PayPal.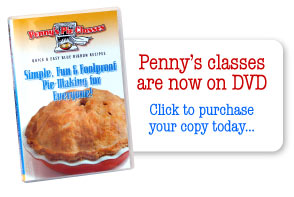 • Penny's Pie Classes Gift Certificates:
You can now give a gift certificate to someone you love entitling them to attend one of Penny's classes or demonstrations. Call toll-free (818) 209-2191 for more information.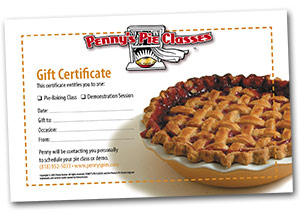 Local Area Classes: PENNY'S PIE CLASSES™ is located in La Cañada, California, a small community just northeast of Los Angeles. Penny's Pie Workshops and Demonstrations are normally limited to the the local Los Angeles county area (i.e. L.A., Beverly Hills, Glendale, Montrose, La Cañada, Pasadena, Santa Clarita, Monrovia, San Fernando Valley, etc.).
More distant venues: Please call (818) 209-2191 to arrange for services outside this area (prices will include lodging and travel expenses).